Guide To / New York City
a comprehensive guide to the city that never sleeps
New York needs no introduction, the real difficulty is getting me to quit talking about it. Every time I land, the sights, sounds, smells and even the seasons get under my skin and everything feels familiar again.
For first-timers it's a breeze to get around; the easy-to-follow grid-pattern and street names along with instantly recognizable landmarks and extensive public transport make it almost obvious... at least after a few days anyway. Many people ask me for advice when they travel there and while I still have so much to see, I decided to put together this guide to help inspire you to book and plan for it.
Warning: it's a doozy! So feel free to skip ahead to the bits that interest you.
1 / FIRST THINGS FIRST, mine INSTAGRAM!
Instagram is my go-to source for up-to-date inspiration when planning a trip because you're able to visually immerse yourself. It's bite-size, current and at the best of times it is curated to a very high standard. This is really helpful in finding cool exhibitions, new hot spots (or better yet, obscure ones) and temporary pop-up events. Searching #hashtags and locations can often reveal surprising gems and in that process, you might discover even cooler resources like I did when I came across these guys...
2 / TAKE ADVICE FROM friends who have already been there
This way, you'll learn from their mistakes and get cool off-the-grid recommendations. I approached a few friends when researching this post and their advice was so great, I decided to introduce these as a separate, bite-size travel feature called Postcard Notes. For now, I've included Josh's recommendations to give you an idea. He and I worked together at a Cape Town ad agency and he recently relocated to New York.
best free thing TO DO IN NYC
There are free concerts and ferries but my favourite thing is an early morning walk across Brooklyn Bridge. Cheesy and lame (not really) but it doesn't get old. I avoid most touristy places but Brooklyn Bridge on a Sunday morning is pretty awesome.
MUST-SEE SIGNATURE NYC EXPERIENCE
Depends who you are but I'd say if you're a first time visitor, wait for the sun to set and head to Times Square. I'm sure you know this but those billboards at night are something else. I lasted about 5mins before I had to get out of that mania but I did enjoy it... until I didn't.
best view of the skyline
I'd say it would probably be Westlight (a bar on top of the William Vale Hotel). It's a little too swanky for my liking but it'll give you a great view of the skyline. Personally, I'd rather go to something like Northern Territory (a 3-storey high rooftop in Greenpoint) or on a nice evening, go to The Brooklyn Barge on the water and have a beer or two, but that's just me!
BEST OFF THE GRID RESTAURANT or BAR
Being a Greenpoint local, I'd have to say Paulie Gee's is my favourite pizza joint in NYC and it's in my neighbourhood, so that's a bonus. A rad, hidden, underground cocktail bar in Greenwich Village (close to my work) is called Little Branch - perfect for a date night.
3 / my new york edit / THE PRETTY AND THE PRETTY PRACTICAL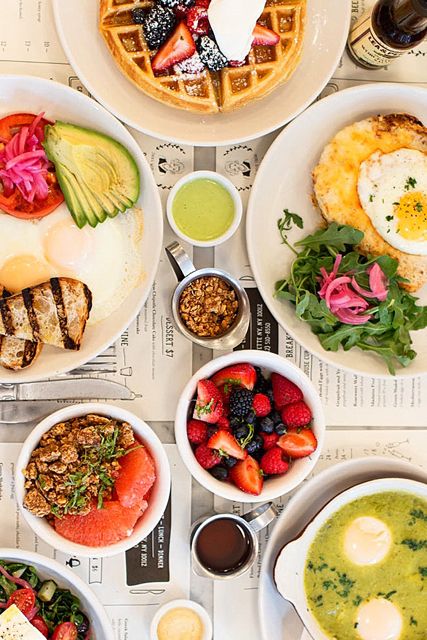 JACK'S WIFE FREDA (pictured) is an immigrant's love story. Jack and Freda met and married in Johannesburg in the 1930s and 80 years later, their grandson named his lively all-day bistro after his grandmother (which explains why Malva Pudding is on the menu). This cosy space is well worth the wait.
224 Lafayette St, SoHo | Map | Website | Instagram
TINY'S AND THE BAR UPSTAIRS is the most Instagrammed 3-storey townhouse in the heart of TriBeCa. It's dinky pink exterior looks like something out of 'Honey, I Shrunk The Kids'. A great neighbourly spot to grab a bite or catch up over a glass of wine.
135 W Broadway, TriBeCa | Map | Website | Instagram
THE BUTCHER'S DAUGHTER is a trendy juice bar and vegan cafe perfect for picking up a green juice and delish avo smash on toast.
19 Kenmare St, Nolita | Map | Website | Instagram
JA JA JA for vacation vibes and authentic, playful Mexican food. Enjoy their all-vegan menu and delish mezcal cocktails.
162 E Broadway, Lower East Side | Map | Website | Instagram
LA ESQUINA is one of my favourite speakeasy bars tucked away beneath The Corner Deli on the corner of Kenmare St and Lafayette. You're led downstairs through their kitchen before it opens up into a really cool no-frills taqueria and exclusive basement tequila bar.
114 Kenmare St, SoHo | Map | Website | Instagram
JOHN'S OF BLEECKER STREET a historic pizzeria established in 1929 and one of five restaurants still permitted to use coal-fired brick ovens. Believe me when I say nothing beats their pizza. This modest space is known for its graffiti carved wooden booths (I dare you to find my initials or add yours) and many celebrity photos including Johnny Depp, Jack Black, Ellen Degeneres, Emma Stone who have all eaten there. It's a whole pie kind of place (they don't sell slices) but trust me you won't be able to stop at one.
278 Bleecker St, Greenwich Village | Map | Website | Instagram
SMORGASBURG is a buzzing seasonal outdoor market located in the East River State Park. It opens every Saturday (from the 31 March 2018) between 10h00 and 17h00 and offers great views of the Manhattan skyline. Be sure to catch the East River Ferry back across to the city to make the most of those photo opportunities.
SEZANE'S NEW YORK L'APPARTEMENT (pictured) to experience a bit of Paris in New York City. Shop the collections and enjoy complimentary coffee from MAMAN.
254 Elizabeth St, Nolita | Map | Website | Instagram
REFORMATION in the East Village is an absolute must. In fact, there are so many beautiful boutique stores here and in the SoHo, Nolita area, that you're bound to get sidetracked along the way.
156 Ludlow St, Lower East Side | Map | Website | Instagram
DEPARTMENT STORES Bergdorf Goodman has launched so many designers careers; their window displays are the most anticipated productions especially around the holidays | Barneys | Saks Fifth Avenue | Bloomingdales | Macy's
ANTHROPOLOGIE for women's clothing, shoes, accessories, beauty, home, furniture and gifts. There's a bit of everything and they always smell amazing!
Nearest Store | Website | Instagram
SEPHORA is the best for beauty and fragrance.
Nearest Store | Website | Instagram
EATALY is one of my absolute favourite shopping experiences. People walking around with their wine glasses shopping for goods and produce (amazing); waiting in line for the several restaurants, gelato counters, chocolate connoisseurs, bakers. I once traded in my reservation at one of the restaurants for a spontaneous picnic in neighbouring Madison Square Park instead, buying a delicious selection from the deli and a freshly baked baguette! That's New York for you, you can do that sort of thing. It's also right next to the iconic must-see Flatiron building.
200 5th Avenue, Midtown | Map | Website | Instagram
McNALLY JACKSON my favourite independent bookstore and one of my favourite areas to walk early in the morning.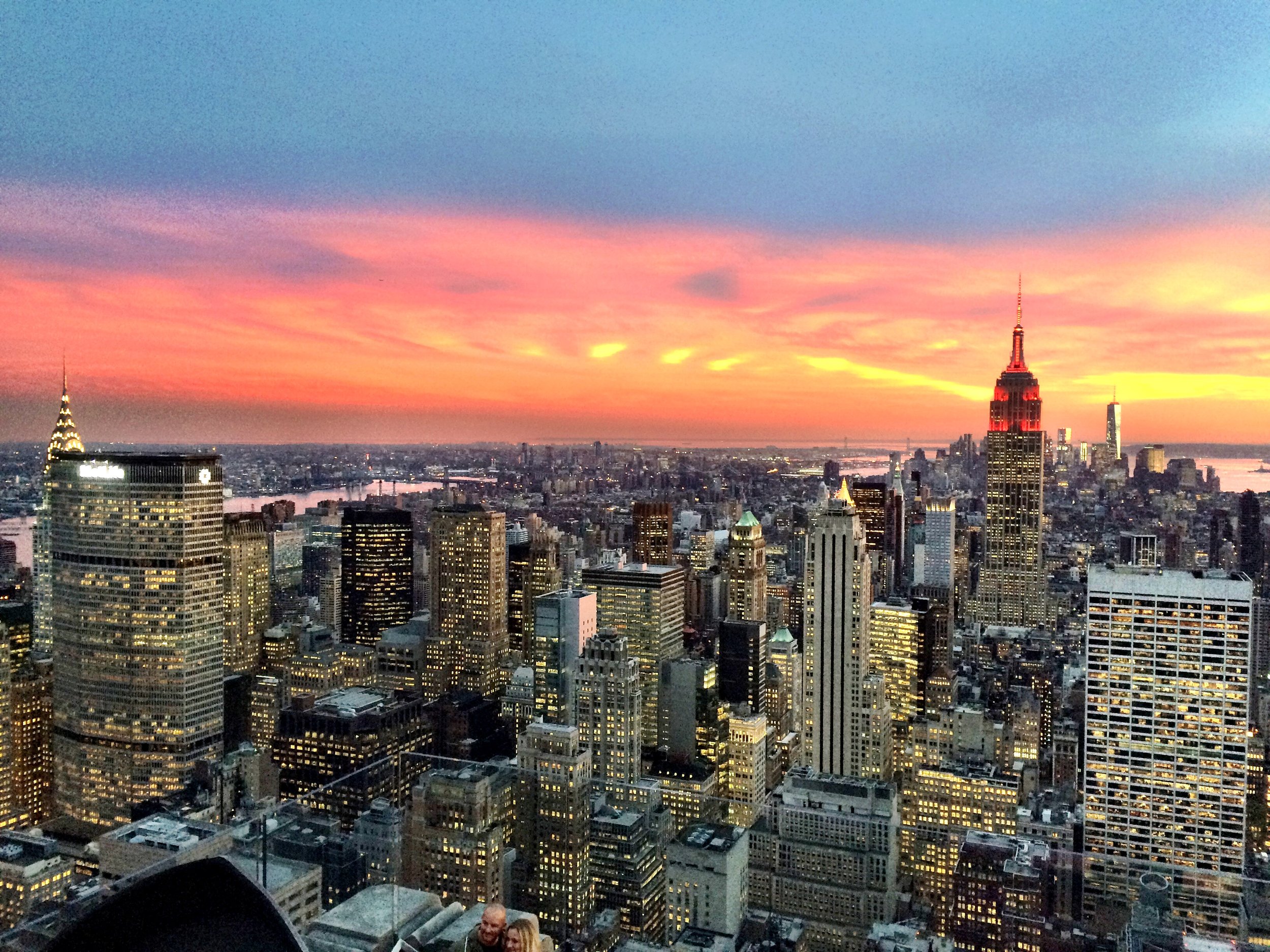 TOP OF THE ROCK (pictured) at 30 Rockefeller Centre is my favourite spot to catch the sunset and unobstructed views of the city skyline. To get pics of The Empire State Building and Central Park from 67-70 storeys up is pretty special. Book multiple attractions with City Pass or Sightseeing Pass to get discounted rates.
W 50th St and 5th Ave, Midtown | Map | Website | Instagram
CENTRAL PARK is magical any time of the year. Pack a picnic; hire bikes or one of those cute row boats; ice-skate or book a walking tour of famous movie locations - like One Fine Day, When Harry Met Sally, Breakfast at Tiffany's, Sex and the City and Serendipity. My friend bought it for me as a gift and it was one of my favourite memories, packed with interesting facts about the city, the park and scandalous things that happened on set. For more things to see and do in Central Park, click here. Other parks include:
THE NEW YORK PUBLIC LIBRARY is an iconic landmark on 5th Avenue. It's also where Big left Carrie stranded at the altar in SATC. What you might not know is that it offers FREE major exhibitions that are really beautifully put together so it's worth keeping an eye on their events.
476 5th Avenue, Midtown | Map | Website | Instagram
THE COMEDY CELLAR is a great night out (as is a BROADWAY SHOW). Jack Whitehall was the surprise closing act the night we went to this packed club in Greenwich Village and other greats have been known to rock up to test out new material - Seinfeld included.
17 Macdougal St, Greenwich Village | Map | Website
MUSEUMS ... I suggest doing your homework as the permanent collections can be overwhelming. Entrance tickets average $25 so again, research combo options and your preferences:
THE 9/11 MEMORIAL & MUSEUM are incredibly powerful and emotive tributes honouring the many thousand innocent men, women and children who lost their lives in the 9/11 terrorist attacks. The 9/11 Memorial is open daily to the public from 07h30 to 21h00.
AIRPORT TRANSFERS you can book your airport shuttle bus through NYC Airporter. A one way trip to Grand Central Station will set you back approximately $19. You can book via their website before your trip or on arrival.
HAILING A CAB you need to be on the look out for the light on top of the cab - if it's on, it's available... simply raise your hand. If it's off, keep looking! Usually a tip is required (15%) and if it's less the a $10 ride, you give no less than $1.
UBER gives you the benefit of knowing your fare before you ride and on-demand rides. As can be expected, it isn't the cheapest way to get around and traffic can make things interesting but, it is a cool way to fast track seeing the city.
THE SUBWAY is my favourite way to get around the city. It's fairly easy to figure out and the places you discover along the way (especially when you get lost) make it all the more gratifying. While the most affordable way to go, be sure to buy an unlimited 7-day pass even if your stay is slightly shorter... It will pay for itself a million times over, particularly for those times you do get off at the incorrect stop. You can read more about the latest fares on their website.
THE STATEN ISLAND FERRY is free and it's a great way to see downtown Manhattan, the Brooklyn Bridge and the Statue of Liberty - which I personally felt was enough. The minute you get to the other side you can queue to come back so there's ample opportunity to get a better view the second time around if you haven't already. For more information on fares and where to go, you can visit their website.
CITI BIKE it's important to know that New Yorkers do not like you to ride on pavements even if you are in Central Park. So, you will have to negotiate with buses, cars and cabs in peak hour traffic along 5th Avenue during Anna Wintour's Met Gala set up that one time, but don't worry, you do survive. With 12,000 bikes and 750 stations across Manhattan, Brooklyn, Queens and Jersey City they're everywhere and it's fun and affordable to get around. Visit their website for more info.
STAY TUNED FOR A STANDALONE POST ON WHERE TO STAY. FOR NOW, WE'D LOVE TO HEAR YOUR THOUGHTS, QUESTIONS AND IF YOU'd like TO SHARE YOUR FAVOURITE RECOMMENDATIONS WITH US - AMAZING! PLEASE FEEL FREE TO GET IN TOUCH HERE OR COMMENT ON OUR INSTAGRAM, @ENLIVEN_NOW.
THANKS GUYS, HAPPY PACKING!